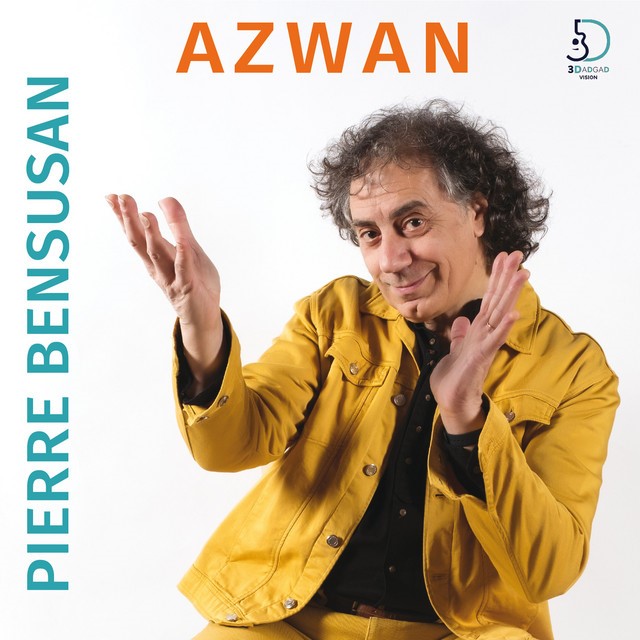 ab sofort erhältlich als CD oder digitaler Download unter:
ABOUT AZWAN
During a three year hiatus from international touring, Pierre has been writing exciting new material and perfecting his guitar-playing and is proud to present his latest instrumental album "AZWAN".
THE STORY OF AZWAN
It's been three years since I last toured the US. I used to tour pretty much every year but realized that probably wasn't necessary. While playing regularly may benefit the improvisational nature of the music, it could also lead to a repetitive sequence of actions, thus creating a dull routine and habits that eventually attenuate the thrill. Trusting the bond built via my previous recordings and years of touring, I took an adequate amount of time off to invest myself into two new projects: a book ("Pierre Bensusan Guitar Collection") and an album ("Azwan").
Along my life's journey, I have experienced unity off and on, being more or less aware of the impact and influence of every action upon the entire universe. As time goes on, the more I feel connected to all people, animals and universally to the whole of nature. Being that we are all connected, my intention is that every action and behavior contributes, supports and adds value to our interconnectivity, especially through my music. It feels like a nurturing or even a healing process for me and those with whom I share it.
The name of the new album came from my wife, Doatea. The concept of "Azwan" came from observing bees, those solar insects working in the darkness together as one, and by observing flocks of birds flying and dancing together as one. It has been an inspiring symbolic representation of the continuum of music. When seeing "Azwan" written, it can evoke a place, a city or a mood, but when hearing it said out loud, it sounds like "as one." I've been contemplating all the music from "Azwan" for years before actually recording it, taking time to allow all the notes to come together as one.
The process of crafting and composing music is like crossing the desert: the walk is long, tiring, challenging and sometimes feels lonely and hopeless, but there is an oasis and reaching it ultimately becomes the goal. Ideally, taking the stage is the time and place where everything comes together. Besides learning to play what I wrote, I considered how to overcome the challenge of playing every night, how to keep up the excitement. It's a thin line between sticking to what's written and stepping out into the world of improvisation. "Azwan" is primarily a solo instrumental album on which the guitar is conceived as an orchestra, delivering melody, bass, chords and counterpoint in the same space. To it, we add some vocal elements and several collaborations guest musicians.
My approach is similar to that of jazz musicians. While many are highly trained musicians, when they play, it is all about being in the moment and improvising. French guitarist Jean-Marie Ecay, with whom I had the great pleasure of producing the new album, takes a similar approach. He brought in Christophe Cravero on alto and violin and Stephane Kericky on upright bass: two prominent musicians from the French jazz scene. Jean-Marie also plays along with me on the track "Balkangeles".
My quest is to create a space where the guitar and voice tell a story together. Then, I never feel alone when going into "the zone." Bringing the audience along with me is a humbling experience; it's both an honor and a joy.
Pierre Bensusan